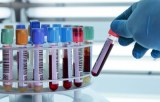 Direct PCR on blood samples
Direct PCR kits on blood samples allow PCR to be performed directly on whole blood samples without DNA purification or pretreatment. These kits are compatible with different samples such as: fresh blood, blood stored at 4 ° C, frozen blood, blood stored on Whatman 903 paper or dried on FTA cards and are compatible with all conventional anticoagulants (EDTA, citrate , Heparin, etc.).
Silica membrane column purification methods can be used to remove contaminants and inhibitors, but are expensive and may have low yield. Less expensive approaches such as sodium hydroxide (NaOH) and proteinase K (PK) can save time, but contamination can produce inconsistent results. This is why it is preferable to use a direct PCR kit which combines the low cost of conventional extraction methods with the performance of DNA polymerases optimized for amplification from unpurified extracts.
Search result : 6 product found
NB-54-0162-02
200rxns(50µl/rxn)
NB-54-0162-01
50rxns(50µl/rxn)
PD103-02
200rxns(50µl/rxn)
AD401-01
100rxns×20µlsystem
PD103-01
50rxns(50µl/rxn)
AD401-02
500rxns×20µlsystem