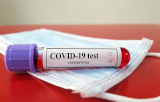 COVID-19 - Serological tests
Although the RT-qPCR technique is the official technique for the diagnosis of COVID-19, there are other methods available such as serological tests, rapid salivary tests and antigenic tests.
Serological tests can be performed by ELISA or by rapid tests (based on the principle of immuno-chromatography). The purpose of these tests is to look for the presence of antibodies in the blood against the SARS-CoV-2 virus responsible for the COVID-19 epidemic. These tests currently detect different types of immunoglobulins: IgG, IgM and IgA, either separately or simultaneously. When detected separately, immunoglobulins can provide information about the history of infection. Indeed, the detection of IgM with or without IgG indicates a recent or ongoing infection, whereas the detection of IgG alone indicates a past infection. IgG appearing during the infection and remaining detectable afterwards.
Rapid serological tests allow this detection in 15-20 minutes and their use is very simple and does not require any specific equipment. For this reason they are authorized as TROD in some countries like France.