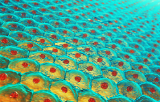 Competent cells
Cellular competence refers to a cell's ability to absorb foreign (extracellular) DNA from its environment. The process of genetic absorption is called transformation. In some cases, the genetic material absorbed by a cell may be incorporated, or recombined, into its own genome. This incorporation of genetic material into the host genome is called horizontal gene transfer (HGT) or lateral gene transfer.
Natural competence and gene transfer have facilitated many adaptations in prokaryotic and eukaryotic cells. Competent cells can either occur naturally or be made competent artificially.
There are two types of artificially competent cells: chemically competent cells and electro-competent cells. Chemically competent cells are cells that have been made competent by a salt treatment followed by a heat shock step. Electro-competent cells are made competent by using an electrical impulse from an electroporator to create temporary pores (poration) in the cell membrane of prokaryotic or eukaryotic cells.
Search result : 77 product found
Refine your search :
Cell line

35

kit

18

Buffers and reagents

8

Other products

4

Primary cells

4

pcr products

4

Protein/peptide

2

cell culture products

2
PCR

15

Cloning

11

Cell culture

2