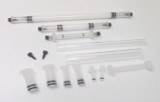 Columns for Size exclusion chromatography (SEC)
Size exclusion chromatography separates proteins by their hydrodynamic radius, a property determined both by the size and shape of the molecule. Unlike other chromatographic methods, proteins do not bind to a stationary phase during size exclusion chromatography (SEC). In contrast, proteins are separated by the rate at which they navigate through an inert stationary phase called size exclusion resin.
SEC is a method most often used in the final stages of a purification system because of its ability to differentiate between different species of a protein. Oligomeric species, unfolded proteins, and truncated proteins can all be separated from the native protein, while simultaneously exchanging components of the buffer. Often, size exclusion chromatography is used as a faster and more reliable buffer exchange method than dialysis because it is compatible with several solvents and requires less buffer. A single solvent is used throughout the procedure, and the available resins are compatible with the most commonly used buffers.
The type of resin used and the length of the column play a critical role in solving SEC-separated proteins. The choice of the resin depends on the molecular weight of the proteins that require separation and the conditions under which the separation will be performed.