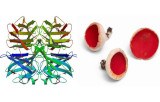 Aleuria aurantia (Orange peel fungus) Lectin (AAL)
Lectin AAL is isolated from orange peel fungus (Aleuria aurantia). AAL is a dimeric lectin with two identical subunits of approximately 36 kDa. Each subunit has five carbohydrate-binding sites. The lectin recognizes and binds specifically to fucose and terminal fucose residues on complex oligo saccharides and glycoconjugates. Unlike Ulex europaeus and Lotus tetragonolobus lectins which prefer (α -1,2) linked fucose residues, Aleuria aurantia lectin binds preferentially to fucose linked (α -1,6) to N-acetylglucosamine or to fucose linked (α -1,3) to N-acetyllactosamine related structures. AAL also reversibly binds fucose attached to nucleic acids.
AAL's binding activity could be used to identify secreted fucosylated glycoproteins that may represent candidate biomarkers for cancer since fucosylation of N-linked glycans has been associated with several types of cancer such as liver cancer.
Search result : 12 product found