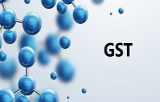 Affinity resins for GST tagged proteins
Glutathione S-transferase (GST) is a 211 amino acid protein (26kDa) whose DNA sequence is frequently integrated into expression vectors for production of recombinant proteins. The result of expression from this vector is a GST-tagged fusion protein in which the functional GST protein (26kDa) is fused to the N-terminus of the recombinant protein.
Because GST rapidly folds into a stable and highly soluble protein upon translation, inclusion of the GST tag often promotes greater expression and solubility of recombinant proteins than expression without the tag. In addition, GST-tagged fusion proteins can be purified or detected based on the ability of GST (an enzyme) to bind its substrate, glutathione (GSH).
Affinity chromatography using glutathione-agarose permits rapid, mild, non-denaturing and highly selective purification of proteins containing glutathione binding sequences, such as Glutathione S-Transferase (GST), glutathione peroxidase and glyoxalase I.
Elution of the GST-tagged protein is performed with free glutathione in the elution buffer. The affinity of Glutathione-S-Transferase for free glutathione is higher than the one for the immobilized glutathione bound to the agarose matrix. Therefore free glutathione replaces the immobilized glutathione which leads to release of the GST-tagged protein from the matrix.