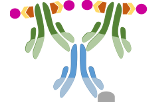 ABC Kits (Avidin/Biotin Complex)
The principle of ABC detection kits is based on the affinity of avidin (or streptavidin) for biotin. Indeed, abbreviation ABC stands for Avidin / Biotin Complex.
Avidin is a 68 kDa basic glycoprotein found in egg white as well as tissues of birds, reptiles and amphibians. Avidin has a strong affinity for biotin, a soluble vitamin of 34 kDa. Biotin can be coupled to a wide variety of biological molecules such as antibodies, and several biotin molecules can be linked to a protein. The biotinylated protein may then bind to more than one avidin molecule. A disadvantage of avidin is the non-specific binding to negatively charged structures as the nucleus of the cells. The use of streptavidin greatly reduces this non-specific binding.
Streptavidin is isolated from Streptomyces avidinii and is similar in size and affinity to avidin biotin. But unlike avidin, streptavidin is not glycosylated which makes proteins less prone to nonspecific binding in immunohistochemical applications.
In general, the ABC detection kits are composed of:
- A biotinylated secondary antibody
- An Avidin / Enzyme Complex
The kits may or may not contain the blocking and dilution buffers and the substrate depending on the formats.