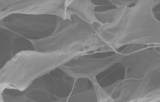 3D scaffold for neuronal cells
BIOMIMESYS® Brain is a unique ready to use biofunctionalized Hyaluronic Acid (HA) hydroscaffold suitable for neuronal cells culture.
BIOMIMESYS® Brain is carried out by double crosslinking reaction of components of brain extracellular matrix: collagen type IV, cell binding domain of fibronectin (RGDS), cationic biopolymer and Hyaluronic with Adipic Acid dihydrazide (ADH). BIOMIMESYS® Brain provides an inductive microenvironment and permits a long term culture of neuronal cell.
In addition to include brain ECM components, the mechanical properties of our biofunctionalized Hyaluronic Acid based hydroscaffold display a low Young's modulus of 0.1 kPa (soft hydroscaffold), which is in the same range of brain ECM. Always with the aim of better mimicking the structural properties of brain, BIOMIMESYS® Brain is made up of 80% empty volume and with à high porosity around 150 ± 30µm.
BIOMIMESYS® Brain provides also enough space for gas, medium and nutrients flow circulation of fragile neuronal cell with cell-cell and cells-matrix interactions, along with a mechanical support required for an easy handling of hydroscaffold.