Novodiax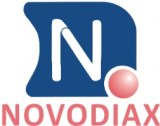 Novodiax has developed a proprietary supersensitive enzymatic signal amplification detection system that meets the needs of immunohistochemistry laboratories through intelligent structural designs and optimal polymerization. They created a spectrum of related cutting edge polymer product lines and services based on this technology:
The revolutionary 10 minute Intraoperative IHC kits.

Q-StainTM PolyHRp-secondary antibodies and streptavidin products

ihcDirectTM PolyHRp-primary antibody conjugates are simple and fast. See our products and services.

Custom PolyHPR Conjugation Service accelerates your therapeutic antibody development and ELISA test kit development.

Companion diagnostic development partnering.