Neuro Probe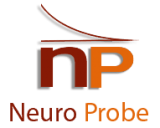 Neuro Probe was founded in the late 1960's with an initial focus on the development and manufacture of chronic stereotactic equipment. In the early 1970's, corporate growth and diversification lead to the development and production of chemotactic instruments, beginning with the modified Boyden chamber and then assorted blind well chambers. In 1980, the 48-well microchemotaxis chamber was developed, in collaboration with Dr. Edward Leonard and Dr. Werner Falk working at the National Institutes of Health. This chamber has become a standard in the field and has served as a basis for the development of many new products. Most recently introduced is the ChemoTx® system. Please visit the Products section of our website for more information on specific products.
Neuro Probe products are warranted to be free from flaws in materials and workmanship for one year from the date of purchase unless otherwise specified. This warranty becomes void if protocols for use and cleaning of the instruments are not followed.

Antibody purification kits - Protein A
Protein A is a cell wall protein from Staphylococcus aureus with a molecular weight between 35-50 kDa and shows high specificity for the Fc region of immunoglobulin molecules of many mammalian species. It is encoded by the spa gene, and its regulation is carried out at the level of the DNA topology, as a function of cellular osmolarity, by a two-component system called ArlS-ArlR. The quality of the resin (Protein A Agarose or equivalent) and stability of the immobilisation is important to avoid leakage of Protein A during the elution procedure.
Protein A affinity chromatography is a rapid one-step purification, which removes most nonIgG contaminants and can achieve purities close to homogeneity. It is particularly useful for purifications of tissue culture supernatant, where 10-100 fold concentrations can be achieved.
| | |
| --- | --- |
| Applications | Kit format |
| Monoclonal antibody purification for solution state assays and Western blotting | Mini & Midi |
| Semi-preparative antibody purification | Midi |
| Purification of polyclonal antibodies for solution state assays and Western blotting | Mini & Midi |
| Removal of endotoxins from an antibody solution | Mini & Midi |
| Small scale antibody purification | Mini |
| Screening antibody expression | Mini |
| Immunoprecipitation studies | Mini |
| Purification of antibodies for immuno -histochemical and immunofluorescence studies | Mini |
Cat#
Description
Size
Price Excl. VAT