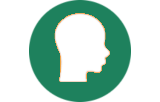 In situ hybridization probes - Salivary gland cancers
There are many types of salivary gland cancers. Normal salivary glands are made up of many different kinds of cells, and tumors can start in any of these cell types. Salivary gland cancers are named according to which of these cell types they most look like when seen under a microscope.
Mucoepidermoid carcinomas are the most common type of salivary gland cancer. Most start in the parotid glands. They develop less often in the submandibular glands or in minor salivary glands inside the mouth. These cancers are usually low grade, but they can also be intermediate or high grade.
Adenoid cystic carcinoma is usually slow growing and often appears to be low-grade when looked at under the microscope. Still, it's very hard to get rid of completely because it tends to spread along nerves. These tumors tend to come back after treatment (generally surgery and radiation), sometimes many years later. The outlook for patients is better for smaller tumors.
Adenocarcinoma is a term used to describe cancers that start in gland cells (cells that normally secrete a substance). There are many types of salivary gland adenocarcinomas.