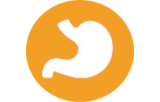 In situ hybridization probes - Gastrointestinal pathology
Gastrointestinal pathologies include diseases affecting, among others, the liver, gallbladder, pancreas, intestine and colon.
The gastrointestinal tract is used primarily for the transport of food and the absorption of nutrients. Many pathologies of the gastrointestinal tract alter one or the other of these functions. The gastrointestinal tract, and in particular the colon, is a common site of malignancy.
There are different types of gastro-intestinal cancers:
Cancer of the esophagus: this cancer develops in the lining of the esophagus, the most superficial area of ​​this organ that connects the mouth to the stomach. There are two main types. The most common is squamous cell carcinoma, often associated with excessive consumption of tobacco and alcohol. It develops primarily in the upper part of the esophagus. Second type in frequency, adenocarcinoma, which appears most often in its lower part.
Stomach Cancer: This type of cancer can develop on many levels of the stomach. Most of these are adenocarninomas, which form from the cells of the lining of the lining of the stomach.
Hepatocellular carcinoma: also called hepatocarcinoma, it is the most common primary cancer of the liver. It occurs mostly on pre-existing liver disease, cirrhosis in the majority of cases.
Pancreatic cancer: also called pancreatic adenocarcinoma, it is a cancer of the digestive tract. Alcohol and tobacco are among the risk factors.
Colorectal Cancer: Colon cancer develops from the lining of the large intestine, or colon. In the majority of cases, the tumor develops in the sigmoid (part of the colon loop, located just before the rectum). Since the colon and rectum cancers are quite similar, they are grouped under the term colorectal cancer.