Empire Genomics

Empire Genomics designs and manufacturesdistributes more than one million clinical and custom labeled molecular probes, enabling hundreds of leading global clinical laboratories, biotechnology organizations and academic institutions to advance biomarker research, accelerate diagnoses and improve personalized treatment options for patients battling cancer and other complex diseases.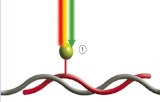 Probes for in situ hybridization
In situ Hybridization (ISH) is a laboratory technique aimed at locating specific single-stranded nucleic acid targets on a histological section of tissue or fixed cells. For this we use a small sequence complementary to the target called probe.
There are 2 types of in situ hybridization that differentiate by label used to visualize RNA and DNA targets. On the one hand FISH (Fluorescent in situ hybridization) if the probe is labeled with a fluorochrome and on the other hand the CISH (Chromogenic in situ hybridization) if the probe is labeled with a chromogen. These 2 types of HIS are based on the same principle, but the inherent characteristics of each detection method make FISH and CISH for very different applications. In addition, the instruments used to visualize the results are not the same depending on the method used: brightfield microscopy for CISH and fluorescence microscopy for FISH.