Everest Biotech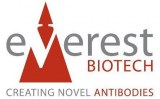 Everest Biotech was founded in 2000 by a group of Biochemists at the University of Oxford. Their specialist knowledge of antibody purification and proteomics led to the development of a company committed to manufacturing high quality novel antibodies for the research market.
Currently there are over 1500 antibodies listed on the catalogue, with approximately 45 new products added every month.
Website : www.everestbiotech.com
---

EB06069 (20µg/ml) staining of paraffin embedded
Human Thymus Medulla. Steamed antigen retrieval with
citrate buffer pH 6, AP-staining.

EB07784 (2.5µg/ml) staining of parental and stable knock-down cell line (fixed by 4% formaldehyse, permealized by Triton X100). Primary incubation was 1.5 hour. Detected by fluorescence.
---

Functional clustering:


Disease clustering :