DRD4 (D(4) Dopamine Receptor, D(2C) Dopamine Receptor, Dopamine D4 Receptor) (AP)
Katalog-Nummer 029457-AP-100ul
Size : 100ul
Contact local distributor :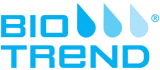 Telefonnummer : +1 850 650 7790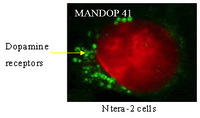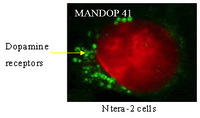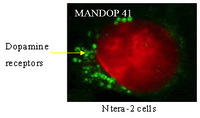 ---
Storage Temp
4°C Do Not Freeze
Five subtypes of dopamine receptors exist in two subfamilies: two D1-like (D1 and D5) and three D2-like (D2, D3 and D4). As members of the G protein-coupled receptor (GPCR) family, dopamine receptors initiate their biological function by coupling to GTP regulatory proteins (G proteins). D1-like receptors, DRD1 and DRD5, stimulate adenylyl cyclase whereas D2-like receptors, DRD2, DRD3 and DRD4, are coupled to inhibitory G proteins and their stimulation leads to the inhibition of adenylyl cyclase activity, and subsequent respective cellular signaling. All five subtypes have seven transmembrane domains, an extracellular amino terminus, and an intracellular carboxyl terminus. Allelic variants of the D4 dopamine receptor (DRD4) are known characterized risk factors of ADHD. It is reported that hypoxia enhances DRD4 promoter activity by several fold. It is also thought that dopamine receptors such as DRD4 are involved in neuroexcitation and in a variety of other neurological and psychiatric disorders.

---
Applications:
Suitable for use in Western Blot and Immunocytochemistry. Other applications not tested.

---
Recommended Dilution:
Western Blot: detected DRD4 in 10ug of mouse brain tissue lysate.
Optimal dilutions to be determined by the researcher.

---
Positive Control:
Mouse brain tissue lysate

---
Storage and Stability:
Store product at 4°C. DO NOT FREEZE! Stable at 4°C for 12 months after receipt as an undiluted liquid. Dilute required amount only prior to immediate use. Further dilutions can be made in assay buffer. For maximum recovery of product, centrifuge the original vial prior to removing the cap.

---
Note: Applications are based on unconjugated antibody.

---
---
---
---
---
---
Concentration
As Reported
---
Form
Supplied as a liquid in PBS, pH 7.2. No preservative added. Labeled with Alkaline Phosphatase.
---
Purity
Purified by Protein G affinity chromatography.
---
Immunogen
Synthetic linear peptide corresponding to human DRD4.
---
Specificity
Recognizes human DRD4. Species Crossreactivity
---
---
Important Note
This product as supplied is intended for research use only, not for use in human, therapeutic or diagnostic applications without the expressed written authorization of United States Biological.
---