Anti-Mouse CD279 (PD-1) (Clone RMP1-14) - Purified in vivo PLATINUM™ Functional Grade
Katalog-Nummer P372-100
Size : 100mg
Contact local distributor :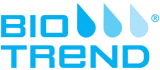 Telefonnummer : +1 850 650 7790
Anti-Mouse CD279 (PD-1) (Clone RMP1-14) – Purified in vivo PLATINUM™ Functional Grade
Product No.: P372
Alternate Names
Programmed Death-1, CD279, PD 1
---
Data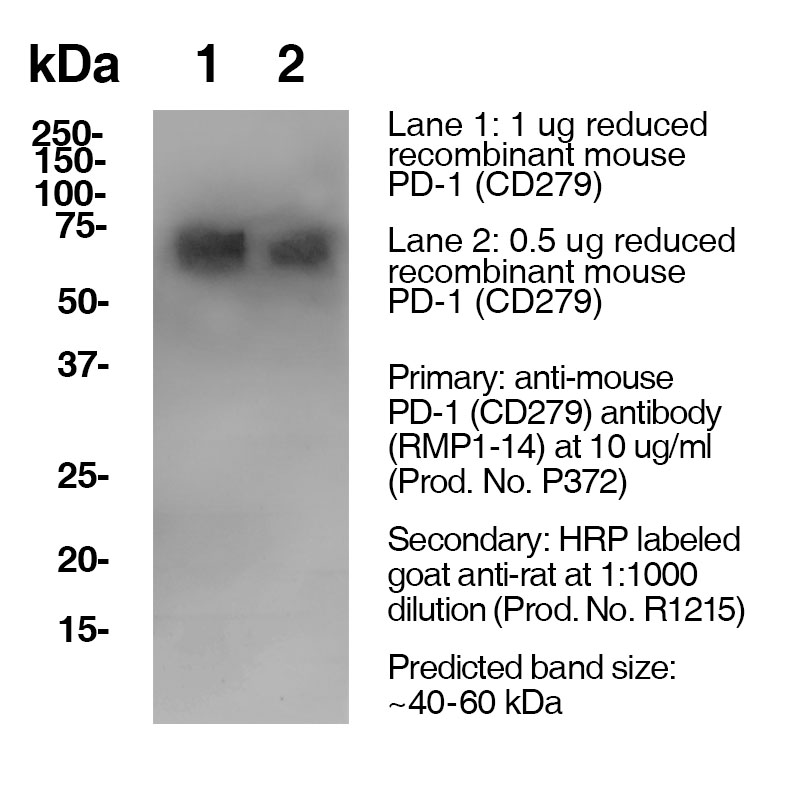 Antibody Details
Product Details
Immunogen
Mouse PD-1 transfected BHK cells
Endotoxin Level
<0.5 EU/mg as determined by the LAL method
Purity
≥95% monomer by analytical SEC
Formulation
This monoclonal antibody is aseptically packaged and formulated in 0.01 M phosphate buffered saline (150 mM NaCl) PBS pH 7.2 - 7.4 with no carrier protein, potassium, calcium or preservatives added. Due to inherent biochemical properties of antibodies, certain products may be prone to precipitation over time. Precipitation may be removed by aseptic centrifugation and/or filtration.
Product Preparation
Functional grade preclinical antibodies are manufactured in an animal free facility using in vitro cell culture techniques and are purified by a multi-step process including the use of protein A or G to assure extremely low levels of endotoxins, leachable protein A or aggregates.
Pathogen Testing
To protect mouse colonies from infection by pathogens and to assure that experimental preclinical data is not affected by such pathogens, all of Leinco's Purified Functional PLATINUM™ antibodies are tested and guaranteed to be negative for all pathogens in the IDEXX IMPACT I Mouse Profile.
Storage and Handling
Functional grade preclinical antibodies may be stored sterile as received at 2-8°C for up to one month. For longer term storage, aseptically aliquot in working volumes without diluting and store at -80°C. Avoid Repeated Freeze Thaw Cycles.
Each investigator should determine their own optimal working dilution for specific applications. See directions on lot specific datasheets, as information may periodically change.
Description
Specificity
Clone RMP1-14 recognizes an epitope on mouse PD-1.
Antigen Distribution
PD-1 is expressed on a subset of CD4-CD8- thymocytes, and on activated T and B cells.
Background
PD-1 is a 50-55 kD member of the B7 Ig superfamily. PD-1 is also a member of the extended CD28/CTLA-4 family of T cell regulators and is suspected to play a role in lymphocyte clonal selection and peripheral tolerance. The ligands of PD-1 are PD-L1 and PD-L2, and are also members of the B7 Ig superfamily. PD-1 and its ligands negatively regulate immune responses. PD-L1, or B7-Homolog 1, is a 40 kD type I transmembrane protein that has been reported to costimulate T cell growth and cytokine production. The interaction of PD-1 with its ligand PD-L1 is critical in the inhibition of T cell responses that include T cell proliferation and cytokine production. PD-L1 has increased expression in several cancers. Inhibition of the interaction between PD-1 and PD-L1 can serve as an immune checkpoint blockade by improving T-cell responses In vitro and mediating preclinical antitumor activity. Within the field of checkpoint inhibition, combination therapy using anti-PD1 in conjunction with anti-CTLA4 has significant therapeutic potential for tumor treatments. PD-L2 is a 25 kD type I transmembrane ligand of PD-1. Via PD-1, PD-L2 can serve as a co-inhibitor of T cell functions. Regulation of T cell responses, including enhanced T cell proliferation and cytokine production, can result from mAbs that block the PD-L2 and PD-1 interaction.
Antigen Details
Ligand/Receptor
PD-L1 (B7-H1), PD-L2
Function
Lymphocyte clonal selection, peripheral tolerance
References & Citations
1.) Ardolino, M.
et al.
(2018)
J Clin Invest.
128
(10):4654-4668.
PubMed
2.) Schreiber, RD.
et al.
(2017)
Cancer Immunol Res.
5
(2):106-117.
3.) Honjo, T.
et al.
(1992)
EMBO J.
11
:3887.
4.) Gubin
et al.
(2018)
Cell.
175
:1014–1030
Journal Link
5.) Renner
et al.
(2019)
Cell Reports.
29
:135–150
Journal Link
6.) Gubin, M.
et al.
(2018)
Cell
175
(4):1014-1030.e19
Journal Link